Case study: Ebike Share Scheme user experience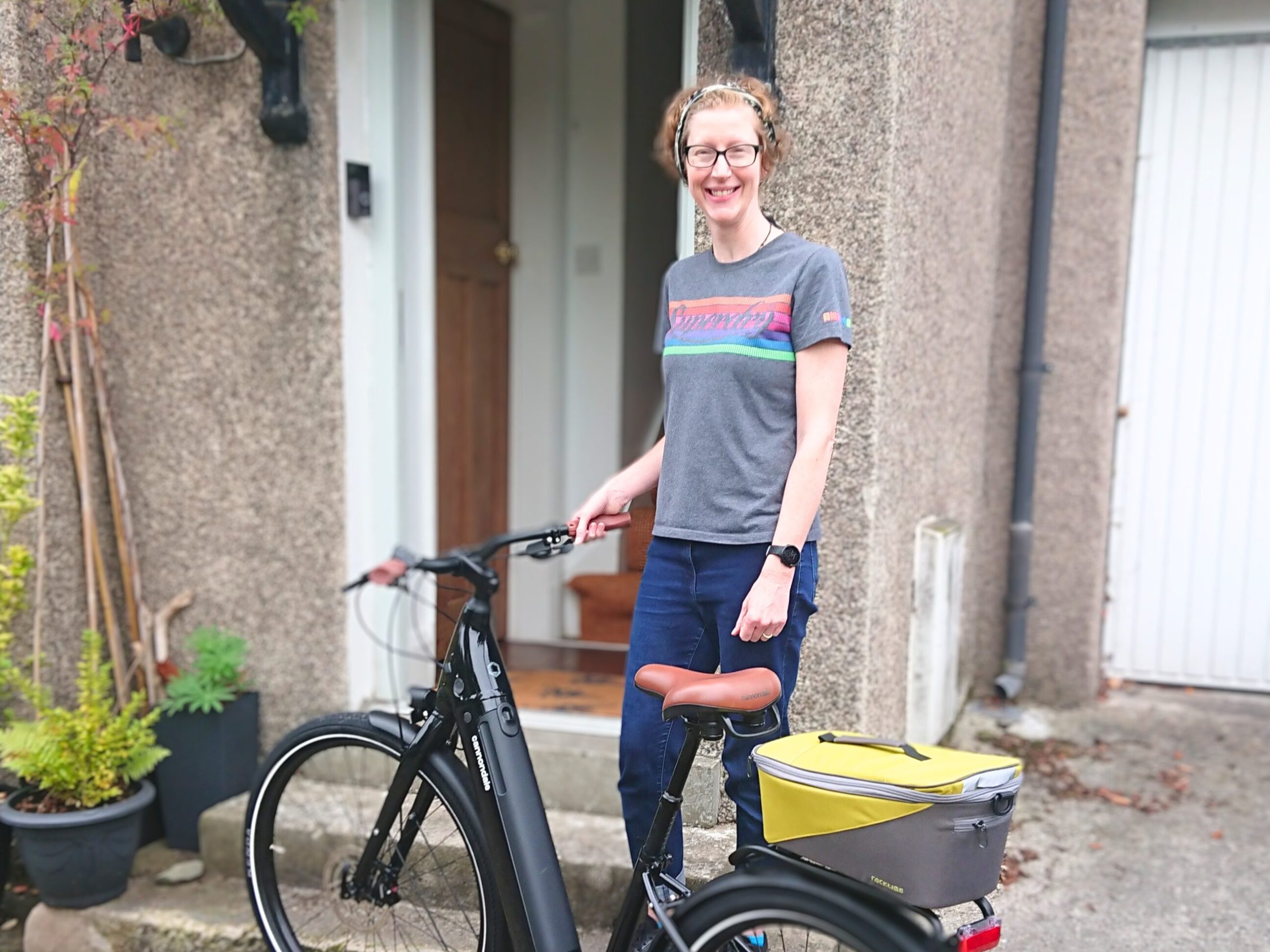 The Staveley Community Ebikes give local people access to two Ebikes in the middle of Staveley, 24 hours a day, 365 days a year. It's hoped that users will leave their car at home in favour of a more enjoyable journey, getting them outside and getting active.
In April 2023, we interviewed Sheelagh so we could find out more about her use of the bikes and the benefits they provided.
---
How did you find out about the scheme and why did you sign up?
I found out about the Staveley e-bike scheme through my friend, Alistair. At the time, I wanted to use the scheme as I was undergoing chemotherapy treatment for cancer and I was finding it impossible to do my usual sporting activities, like running or cycling, because I didn't have the energy levels or physical strength. I was able to use the e-bike to enjoy a cycle ride with my husband and that was a huge boost for my mental health at a tough time.
What were your first impressions of the Ebike you rode?
It's simple to use, requiring a fraction of the effort that a standard pedal bike needs for the hilly terrain of the Lake District. I had expected it to feel quite cumbersome to ride but it was actually very manoeuvrable. It was easy to use and simple to adjust the levels of assistance.
How easy or difficult did you find booking out the ebikes?
I didn't book the e-bike as I arranged it through Alistair before the scheme officially went live.
Where have you been so far on the ebike, and how did you find the ride?
I cycled with my husband from Staveley to the Mason's Arms at Strawberry Bank for lunch and back again. The Ebike was very comfortable to ride and the battery life seemed good – in fact the ride we did used less than a quarter of the battery. The bag on the back was extremely useful.
Would you use the ebikes again? And if so, where will you go?
Yes I would use the Ebike again. I had never tried an Ebike before and that extra boost on uphills was brilliant. I would potentially use it again for another leisure cycle.
Have your ebike trip(s) so far replaced a journey you would otherwise have made by car?
Yes, if I hadn't used the e-bike then I would have used the car as I would have been unable to cycle that far at that time on a standard bike.
Would you recommend using the ebikes to others?
Yes, I would definitely recommend the scheme, it certainly changed my perception of e-bikes. I found it easy to use and the variation in settings meant you could tailor the degree of assistance to what was required.
---
SENS – Staveley's volunteer-run sustainability group – has received a National Lottery Community Fund grant as part of the Zero Carbon Cumbria Partnership's emission reduction programme that helped to establish this project.
As well as offering local people a chance to swap their car for an ebike and have a good time, SENS want to learn lessons from the pilot so that the scheme can potentially be rolled out to other communities in Cumbria in the future.
Find out more by visiting the community ebikes website and follow us on Facebook.