Case study: Ebike Share Scheme user experience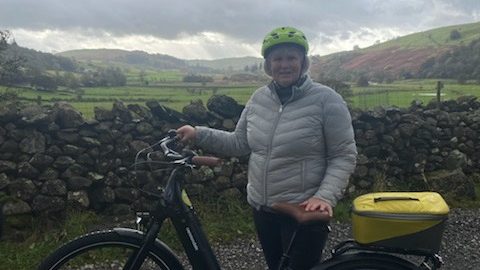 The Staveley Community Ebikes give local people access to 2 ebikes in the middle of Staveley, 24 hours a day, 365 days a year. It's hoped that users will leave their car at home in favour of a more enjoyable journey, getting them outside and getting active. You can find out more about the project on the Community Ebikes website.
In January 2023, Diane was interviewed by SENS so we could find out more about using the bikes and the benefits they provide. Read what she had to say below:
How did you find out about the Staveley Ebike share scheme?
I found out through the Staveley Together Facebook page.
Why did you sign up?
Because I was thinking of reducing our car usage and using the bikes locally, shopping in the village, little jobs, not going too far. I haven't done any biking since my twenties and thought this would be a good way to get back into it without the financial commitment.
What were your first impressions of the ebikes?
I was impressed by how easy it is to go up hills and not get puffed out by them. I liked the fact that you can hire them out for as long as you like and that they're in the centre of the village for easy access. The other thing I love is supporting local community groups.
How easy or difficult did you find booking out the ebikes?
Very easy, very self-explanatory, it has been made very easy for us to book them out to just take them.
Where have you been so far on the ebike?
Kentmere and back, up towards Crook and back down the Dales Way. Generally, locally.
How did you find being out and about on the ebike?
I loved it, it was lovely to be further afield and be outside. I felt so good when I got home. I really felt the physical and psychological benefits. I like that you can plan an outing that would normally take all day but on the ebike you might not be out for as long and still cover some great distance and further ground.
Would you use the ebikes again? And if so, where will you go?
I think it will be mainly for leisure. Just try to go on less roads and less traffic. The Lyth Valley comes to mind.
Have your ebike trip(s) so far replaced a journey you would otherwise have made by car?
Yes.
Would you recommend using the ebikes to others?
Yes, I think it's a really good scheme. Staveley are privileged to have a Community Ebike Share Scheme. I love the idea that visiting relatives and friends can use them under our personal subscription.
Have you any suggestions for improvements to the scheme?
No I think it's well thought of and very accessible.
---
SENS has received a National Lottery Community Fund grant as part of the Zero Carbon Cumbria Partnership's emission-reduction programme that helped to establish this project. The project is being delivered by SENS with support from Wheelbase.
As well as offering local people a chance to swap their car for an Ebike and have a good time, SENS want to learn lessons from the pilot so that the scheme can be rolled out to other communities in Cumbria in the future.
Find out more by visiting the community ebikes website and following us on Facebook.