As always, if there's anything you'd like added to the website, have items for the next newsletter or would like to get involved in any of the current activities, we'd love to hear from you!
---
Contents
Clean River Kent Campaign
Great Big Green Week report
Staveley Community Ebike share scheme goes live
Do you have spare winter plants?
Give your views: Alec Row improvements survey
Partner news and events
Other items
---

1. THIS FRIDAY 21st October: Clean River Kent Campaign
4 'Äď 7pm @ The Pavilion, Staveley
Join us for our end of summer open event where you can find out what we got up to and achieved this year with the Clean River Kent Campaign. Find out more.
Drop in between 4 and 5.45pm
Film premier: 

Declaration of the Rights of the River Kent
Visit information stands for updates / displays


Give your views on the Summer 2022 programme at the CRKC comments corner

Vote on Summer 2023 activities and campaigns

Enjoy free refreshments.
Welcome drinks for CRKC volunteers 'Äď 5.45pm
Presentations¬†6 'Äď 6.50pm
C

RKC introduction and update on summer activities

Presentations from other river and lake users

Updates from our partners:

EU LIFE R4Ever Kent project
Kent (Westmorland) Angling Association
Lakeland Canoe Club
Wrap up / thanks / next steps
Q&A
7pm finish
---
2. Great Big Green Week:
A Great Big success!
The community ebike share scheme was welcomed by the people of Staveley.
Around 20 people turned out to pick damsons at the orchard. A bumper crop meant funds were raised to support orchard maintenance.
6 fabulous fixers and 18 attendees for a variety of repairs and a shared tasty meal.
A great turnout for the dark skies talk and some positive recommendations for reducing light pollution in our village.
Full report coming soon!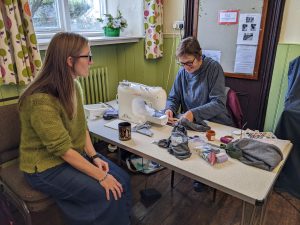 ---
3. Staveley Community Ebikes is LIVE!
Staveley's very own fleet of 2 electric bikes, Craggy and Reston, are now available to use on a pay-as-you go system, 24/7! Find out more here.
The launch saw an introduction to Reston and Craggy – the ebikes of Staveley. Local businesses sponsored coasters which you might see in various locations around the village. There were trial rides, a demonstration of the booking system and of how to change the batteries.
There will be an opportunity to trial the bikes again on Saturday 5th November from 10am – 12pm at Jack's Corner on a drop-in basis. We'll look forward to seeing you there!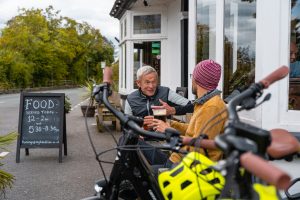 ---
4. Do you have spare winter plants?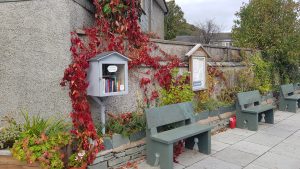 The Virginia Creeper (pictured) is no more, leaving the area lacking in winter colour. Do you have any spare plants which could add to the space?
SENS are working with Staveley School to introduce 2 new planters to Jacks Corner. Do you have any spare plants to donate?
Email: senstaveley@gmail.com
---
5. Give your views: Alec row improvements survey
What would you like to see at Alec Row (recycling bins on Main Street)? Complete the survey to give your views and help improve the village.
---
5. Partner news and events
Warm spaces at The Institute, Staveley. Every Tuesday and Thursday from 1st November, 11am Р3pm. In this time of higher energy bills, visit The Institute to stay warm, chat with friends, meet new people, discover what's going on and maybe use one of the Community iPads. Drop in during the first week to share ideas about how the space could be used going forward.
Cumbria Wildlife Trust are calling on local people to contact their MP to share concerns about and oppose recent government proposals to abolish vital protections for our threatened wildlife and wild places in Cumbria.
Read the report for the Better Transport campaign: Pay-as-you-drive, which presents a strong case for the reform of vehicle taxation and the introduction of a pay-as-you-drive scheme. Food for thought.
¬†Narrated by Kate Winslet, 'ÄėEating Our Way to Extinction,'Äô addresses the elephant in the room that no one wants to talk about… Will we be the next species on the path toward extinction
Congratulations to Staveley Women's Institute on their 100th birthday and to all those that created the wonderful bench in Jack's Corner
Help Cumbrian pollinators 'Äď take part in a CDEC questionnaire
---
6. Other items
Read previous newsletters.
BBC article: Why community orchards are on the rise.
Staveley Fare Share AGM: Monday 21st November 2022 at 7pm in the Pavilion.
Great to hear Jim McMahon mentioning Clean River Kent Campaign at the recent Labour conference, in his speech outlining how the party would clean up the water system. McMahon said Labour would introduce a legally binding target to end 90% of sewage discharges by 2030 and water bosses would face prison sentences for the worst pollution incidents. See article in The Independent.
CRKC, at very short notice sent a response to UU consultation on their future plans
And another short notice CRKC radio interview with BBC Cumbria responding to the DEFRA Storm Overflow Plan (listen from 3.48.40 to 3.55.10)
View the Staveley with Ings community news: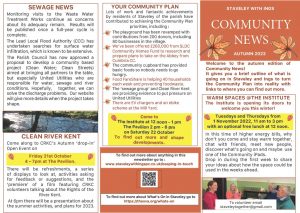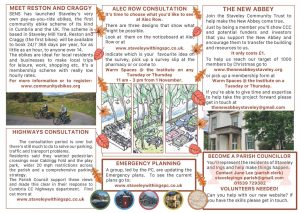 ---
Previous SENS newsletters can be viewed here.
Promote, share and like what we're doing.