SENS Newsletter – July 2023
If there's something you'd like added to the website, you have items for the next newsletter or you'd like to get involved, we'd love to hear from you! Contact us at senstaveley@gmail.com.
The SENS team
---
Upcoming events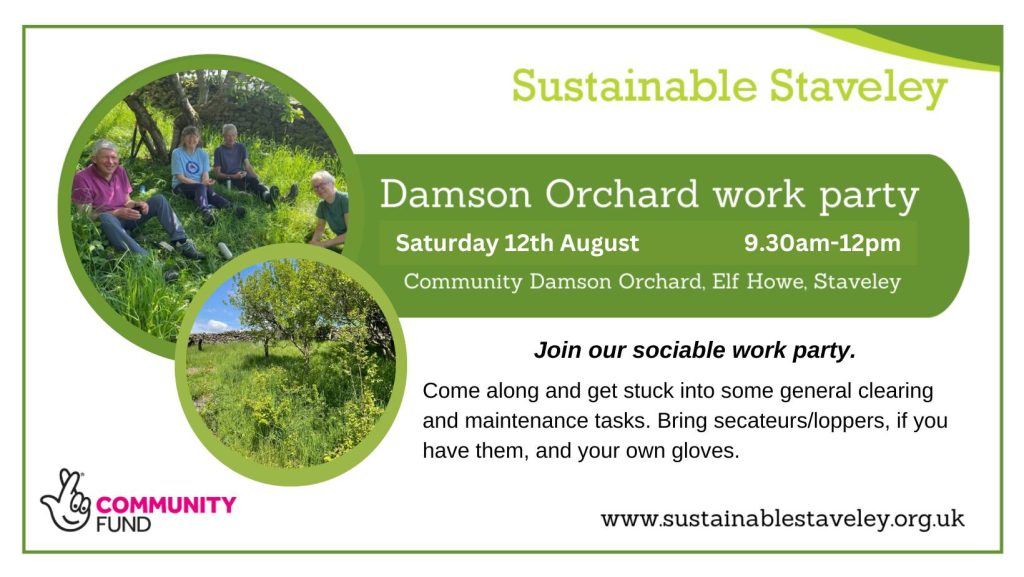 For more information and to sign up, contact anne1salisbury@btinternet.com

Keep an eye on the events calendar to stay up to date with what's on.
---
News
Community Lottery Funding wrap-up
Our Community Lottery funding has come to an end and we've submitted a 2022-23 report, which was a great opportunity to reflect on everything we've achieved – take a look here. We had a bit of coverage in The Herdwick, too!
---
Great Big Green Week, June 2023
Did you join us for Great Big Green Week? We had a seedling swap, a composting stand and an Ebike display at Jack's Corner.
Thanks to everyone who took part in the quiz about SENS and congratulations to the winners! A big thank you also to the the local businesses and individuals that donated prizes.
---
SENS polytunnel visit
Thanks to Rachel for hosting a visit to the SENS polytunnel and field. There was a fantastic range of fruit and vegetables on display, and lots of intriguing systems, too – like rainwater harvesting and making liquid manure from comfrey!
---
SENS team update
A huge thank you to Charlotte for all her professional support over the last 8 months with everything to do with communications – from web pages to poster designs to revamping this newsletter. Welcome to Helen, who is taking over her role.
---
Community Ebikes update
Staveley Community Ebikes was featured on Countryfile on Sunday 16th July as part of an episode about rural transport solutions. If you didn't see it live, check it out on BBC iPlayer.
The scheme was also covered in Global Local, as part of a investigations into whether the 20-minute neighbourhood concept can be successfully implemented in rural settings.
We have a new Instagram page – please give us a follow if you use it!
---
Clean River Kent Campaign News
Funding
The Patagonia Foundation has confirmed £6.3k funding for microbial source testing to determine sources of faecal pollution. We're working with them to develop a robust programme that will gather the most useful results.
Thank you to Sedgwick Parish Council for their generous donation of £50.

Promotion
The Westmorland Gazette covered our pilot testing in Kendal and The Times has included us in a feature about bathing designation guidance.

BBC North West interviewed us for a programme about water quality, which will air at the end of July.
We were also interviewed by a PhD student at Leeds University, who's gathering perspectives on river water quality in England, with a view to finding equitable routes towards more sustainable water management in policy and practice.
United Utilities
United Utilities has confirmed that they plan to invest in the Staveley waste water treatment works by 2030, but there are no plans yet to tackle the problem of sewage backing up in the village when it rains heavily. The campaign goes on. Welcome to United Utilities' two river rangers, Dale and Jason, who'll cover the river Kent as part of their Cumbria-wide role.

Take Action
We have training materials on digital activism, media interviews and political engagement for river campaigners – slides are saved here.
Please report any incidents of illness after contact with the river via this short survey.

If you see any issues with the river – such as pollution, habitat damage or fly tipping – report them to the Environment Agency on 0800 807060 and to South Cumbria Rivers Trust (SCRT). It's important that these agencies receive these reports so they can investigate and take action.

Following a successful FreshWater Watch pilot testing phase in Kendal, we'll shortly be contacting volunteers along other stretches of the river to take part in phase two testing.

---
Partner news & events
Take to the buses!
Make use of the fantastic bus services from Staveley for a stress-free adventure. All bus fares are £2 until October 2023.
---
Coal Mine rally, Whitehaven – 22nd July, 12pm
Hear from a variety of speakers talking about the possibility of climate jobs for Cumbria and a Just Transition for the area as an alternative to the planned west Cumbria coal mine. Find out more.
---
Cumbria Wildlife Trust
Did you know that Staveley has its own temperate rainforest? Staveley Woodlands is managed by Cumbria Wildlife Trust and is a special place for wildlife and people. You can help to protect it by donating, joining the Trust and taking part in events – search 'Staveley' here to see what's on.
---
Support SENS
We're a volunteer-led organisation that relies on grants and contributions. Here's how to support our work.
Know someone who'd like to receive the SENS newsletter? Contact us at senstaveley@gmail.com.
Thanks for reading!