Meal at Hawkshead Brewery – PHOTOS
3rd November 2012
Thanks to Nicola for organising a fab evening at the Hawkshead Brewery where chef Kester cooked up some very tasty dishes using local ingredients (some provided by the Big Onion).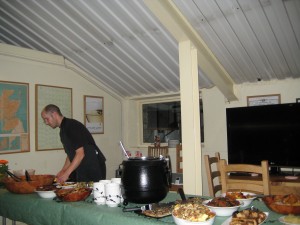 Menu from Kester at Hawkshead:
Roasted Spiced Pumkin + truffle soup
Baked Stuffed Marrow (made with a third of Raymond's prize winning marrow – it won 4th prize at Sawrey Marrow Competition!)
Wild mushrooms on Toast with Blue Stilton (honey mushrooms foraged locally by Andrew Tomlinson)
Slow cooked pork belly with spiced apple relish
Bubble + squeak (potatoes from Raymond at Crook)
Potato wedges + barbeque sauce (potatoes from Raymond at Crook)
Scotch Duck Eggs (Organic eggs from Sunny Orchard Farm, Kentmere Rd, Staveley)
Brussel sprout Fritters (from Raymond at Crook)
Mixed Roasted vegetables (from Raymond at Crook)
Rainbow Trout Guoujons
Apple and damson strudel + cream (organic apples from Sunny Orchard Farm and damsons from the Damson Association in the Lyth Valley)
To see photos from our pumpkin carving event at the final Big Onion exchange of the 2012 season, see here.
See photos from the evening below, including Nicola making a slide show presentation of photos from events throughout 2012 and presenting awards to Big Onion contributors!