SENS 30 Mile Meal report
20th August 2012
At the SENS August Social the Jacob's Join theme was food from within 30 miles. Home grown salad's with peas, potatoes and Staveley eggs, shredded beetroot from Raymond in Crook, herbs from the Big Onion planters around the village, cucumbers, tomatoes and basil from Kentmere but grown in a greenhouse made from (not very local) cedar! Spanish omelette and Homity pie (recipe below) along with Haytons sausages cooked on charcoal from Arnside coppice on bread from Lovingly Artisan.
And for afters, Eton Mess with strawberries and raspberries grown in Kentmere and mereigne made with Kentmere eggs, plus a selection of cheeses made within 30 miles, including Appleby Brie, Kendal Creamery soft cheese and Withnail Blue from Penrith. Even (damson) wine from Cumbria!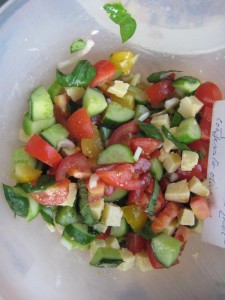 30 miles meant flour was accessible from Little Salkeld Mill in Penrith, along with vegetables and dairy from Sizergh. Sourcing grains such as bulgur wheat was more difficult as although staples such as barley and oats were once grown in fields around Staveley, there is now very little arable farming producing crops rather than livestock around South Lakeland.
Olive oil and balsamic vinegar were too good to leave out! Apparently apple cider vinegar flavoured with elderberries is a good substitute for balsamic vinegar but nothing beats a good olive oil!
Homity Pie recipe from Alan
Wholemeal pastry for an 8″ flan requires – Flour 125g, Marg 62g, Water 35ml.
Potatoes                 350g.         
Onions                    450g          
Oil                            45ml
Butter or Marg         25g          
Chopped parsley    15g       
  
Garlic   2 crshed cloves (or about 1/3 teaspoon of dried garlic granules) 
Milk (optional)Â Â Â Â Â Â Â  15ml
Cheese                   100g 
Boil potatoes.  Saute onions in the oil until really soft.   Combine potatoes, onions, all other ingredients  including half the cheese.  Sprinkle remainder of cheese on top.  
Bake for 25 minutes at 220deg C = 425deg F.