Visit to Diane's polytunnel May 2012
19th May 2012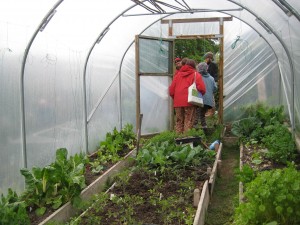 On a wet windy Friday in  May a group of Big Onioners visited Diane's polytunnel in Longsleddale for inspiration.
Polytunnels are great for extending the growing season and increasing the variety of veg you can grow. Diane showed us the veg she is still harvesting which she grew in the polytunnel over the winter. Spring cabbage, parsely, swiss chard, perpetual spinach and salad greens such as claytonia and lambs lettuce.
You can also get a head start in the spring as the soil warms up quicker and you are more protected from frosts. It's May and Diane has peas in flower in the tunnel!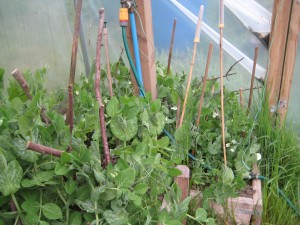 Some advice for those considering a tunnel – you can set up an automatic watering system, for example using seep hose, to save time. Ventilation is important to keep your plants healthy. Cleaning  the plastic regularly helps to maximise the light getting to the plants (try every 6 months or so with a mop and washing up liquid). Enjoy the warm, dry refuge of your polytunnel!
Thanks to Diane for hosting us.